Lynn D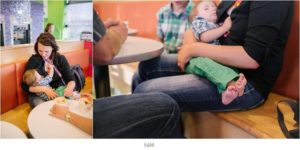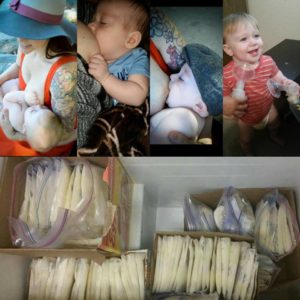 My son was born is January 2015. I started moo n cookies products when he was about 5-6 weeks old and have kept them in stock ever since. They were my lifeline when I first returned to work and went from nursing on demand to pumping on a schedule. Not only have these products helped me to continue my breastfeeding journey (14 months strong now), but I've also been able to help other babies by donating over 3000 extra ounces since may of 2015. This is a picture of my very first donation, which was over 600 oz!! Since then, I've been able to donate an average of 150-200oz every 5-6weeks, On top of providing my son with all the milk he needs while at daycare. Thank you Lindsay and moo n cookies!!!
Amber S.

Rickie R.

Kendra J.
Holly W.
Kerrie K.
Kristi V.
Jill I.
Silvia J.
Krystal V.
Alejandra G.
Ashley H.
Yesterday I got my first order of cookies and ate 2 of them. They taste absolutely amazing, I could have eaten the whole bag. I don't remember the last time I have leaked through pads, 2 shirts and the bed in the middle of the night. I will definitely be paying extra for shipping these cookies when we move, they work wonders!!
~ Erin S.

Be careful!! These are really really really good!!! 
So relieved to find a delicious dairy free treat!
~ Adrienne D.

Delicious! I really love the bars! Fast shipping and worth the extra fee for shipping. Super easy transaction and a pleasure to do business with. 🙂
Felt a definite increase in supply after just 1 day if eating the bars!

~ Krysta S.

Being on a specialized diet for my little one (dairy and gluten free) finding MOO n Cookies has been amazing. Yummy Gluten free and dairy free cookies is truly an art form that is mastered here. I ordered a special first, then 3 dozen the next chance I got (which I am currently digging in to). They help with my supply and taste amazing, what more could I ask for?
~ Heather L.

Received my first batch of chocolate chip cookies and bars this week in hopes of increasing my supply before leaving the baby for the first time for the weekend and happy to see great results! Love having a reason to enjoy a sweet treat that benefits my baby too! Thanks so much!
~ Jamie Lee M.

I just opened my freezer and surprised myself with some cookies I had won. These things are seriously yummy! Handed some out to some bf girlfriends and they all agree these are delish! They came with an ingredient card and individualy wrapped; both of witch I though were nice touches. I love the fact that although I am not currently having supply issues, eating them may help the nutrient levels of my milk. I highly recommend them.
~ Ericca H.

I just received my order today and I don't know if it well help I am praying it does as I pumped 2.5 oz per session ( only 2 ) for my 9 month lo… But I can say they are the best treats I have ever had.. Delishhhhh One happy customer! Buy the way I ordered both cookies and bars :::)))
~ Carmen M.

I am having a hard time not eating my whole order. The cookies and bars are so good!! I already see a difference in my milk production after a half day. I am so glad I found these and I will definitely be recommending to people.
~ Rebecca S.

I was having a bit of an issue with my supply, I got a batch of chocolate chip cookies and saw a difference after just four cookies!! They are absolutely delicious too!
~ Ashley K.

By far the most amazing lactation bars I've ever had. I saw a boost in my supply almost immediately. They are like having a treat that I don't feel guilty about. I'm placing another order today!
~ Amanda S.

OH MY GOSH! I don't know where to begin! I just received the bars yesterday, I had two yesterday and one today. It took all my self restraint not to eat the whole bag, they are that delicious. More importantly though they work! I am a first time mom to a 5 week old and have been worried about increasing my supply so that I can both feed him and pump to store for when I go back to work. Normally I have been lucky to pump 4 extra oz in an entire day. By 5:00 PM tonight I have already pumped 7 extra oz. 
My only regret is that I didn't order enough to last through my vacation
~ Amber E.

I have had a problem with supply since I can only nurse on one side…I decided to try these, and ordered a dozen cookies and a dozen bars. Oh. My. Gosh. Not only are they DELICIOUS, but I noticed a difference the next day. Woke up super full and feeling hard as a rock! I know lots of mamas wouldn't want the discomfort of engorgement, but I was THRILLED!! I've already reordered a larger order (love that they're individually wrapped and freeze well), and I couldn't be happier. My 9 month old loves having little tastes too haha! Worth every penny!
~ Elizabeth D.

Ordered A dozen with white chocolate / chocolate chip cookies on Wednesday got my shipment Friday around 11 :))) so happy it came so soon since I thought I wouldn't get til next week – super yummy and deff was the boost I needed waking up from BFing all night !!! Will deff order more when I'm done with this batch !!! Love that she was so sweet and answered every email on time ♥ thank you so much
~ Vanessa

These cookies were great! Tasted amazing. She substituted chocolate and raisins with coconut and I loveeeed them. It helped my supply especially at night when it usually takes hours to put my little one to sleep. Customer service was great, it tastes great and it does what it says it's going to do!
~ Typhani H.

I love love love these cookies!! I received my supply on Monday and I noticed a gradual increase on Tuesday as of today I am pumping more than I was two weeks ago before my supply took a dip!! The seller is phenomenal!! She truly takes pride in customer service and satisfaction!!
~ Britany D.

I have ordered 2 or 3 times already and not only are these cookies really tasty but they really help with supply. The bars are my favorite and they arrived fresh and exactly when she said they'd arrive! Amazing… in fact I need to order more!
~ Erin H.

These bars are delicious!! (can't wait to try the cookies) Highly recommend to nursing mothers! I had noticed an increase immediately! And she does a great job accommodating to everyone's needs! Thank you again!
~ Sara C.

These cookies are delicious!!! I placed my order Friday and received my bars and cookies Monday morning. I've placed them in my freezer and enjoy a couple everyday.

~ Marisol L.

Just got my order and not only is the owner awesome the cookies and bars and amazing! I will definitely be ordering again
~ Jasmine P.

Super delish peanut-buttery chewy yummy chocolate-chippy goodness!!! Soo happy I got to try these!!! Yaaaaay!!! Baby and I thank you mucho!! 🙂
~ Nineth F.

These are amazing!! Let's see how long these last..everyone keeps eyeballing my delicious treats
~ Daisy T.

Chocolate chip dairy free are delicious! I will order again!!
~ Dori V.

Was a lucky winner of some bars, and they are so tasty! Thanks a bunch!
~ Chelsea K.

I love love love these cookies and bars!
~ Jessica P.

Love the cookies. A pleasure to buy from.
~ Devona M.

On my most recent order I got a few cookies, I prefer the chewiness of the bars. I ate 3 cookies the first day because they were so delicious! The next morning I woke up engorged!! Fed my baby and still pumped out enough to freeze for later. I only eat 1 bar a day but on days I eat 2 I have to pump after each feeding. These bars have allowed me to breast feed without formula supplementation, something I was not able to do with my last child.
~ Kimberly V.

These cookies are so yummy! They've got flaxseed meal, oatmeal, no flour, and they have peanut butter in them. So good! Come individually wrapped so you can buy a bunch and freeze. Highly recommend!
~ Ronnesa R.

Really good cookies!
~ Maribel V.

Love the bars!
~ Jessica B.

Amazing!!!! 🙂
~ Michelle W.

Sooooo delicious! It's going to be hard not to eat all of them in one day.
~ Tabatha R.

Yummy yummy yummy! I will definately be ordering more soon 🙂

~ Brittney S.

These cookies and bars are so yummy!!
~ Laura W.

Being on a specialized diet for my little one (dairy and gluten free) finding MOO n Cookies has been amazing. Yummy Gluten free and dairy free cookies is truly an art form that is mastered here. They are soft and moist with a great flavor. I have another nursing mommy as a friend, she tried them and would have never guessed they were dairy and gluten free. They honestly satisfy my sweet tooth with the benefit of boosting my supply within the first 48 hours of snacking on them.
Lindsay is a pleasure to work with. Very accommodating and tries to make specials available to everyone throughout the month. My cookies arrive 3 days after being mailed, individually wrapped and contained in another a bag separate from the shipping container. I even get a personal message from Lindsay when they show delivered per the tracking number.
I ordered a special first, then 3 dozen the next chance I got (which I am currently digging in to). They help with my supply and taste amazing, what more could I ask for?
~ Heather M.

I have always had trouble with making enough milk for my babies and I was searching for some way to help boost my supply…then I ran into Moo n Cookies on one of my mommy message boards and I am SO THANKFUL that I decided to message her!!!  They not only taste AMAZING they WORK. They came so nicely packaged and individually wrapped so  I am able to just pop them in the freezer and pull them out when I need them.  If you are on the fence and in deciding if you should get them or not….DO IT!!! You won't be disappointed

I love that these cookies were custom made for me with my health restrictions and personal taste. Gluten, soy and dairy free oatmeal raisin cookies yum. It's my favorite cookie btw so that help. Numerous times Lindsay has help me with my breast feeding goals on short notice.  She had delivered my first order which was impressive.  She shipped me batch while training and pumping way from my son. She is passionate about helping mom's nourish their lil ones with the gift of nature's milk supply.  Very addicting stuff though. Lastly she help me get my milk back home from training when airlines gave me a hard time. I'd give these cookies a 5 stars and recommend them.